Tanzania's Ultimate Trail Running Safari    
A day-by-day account of what it's really like to run the Kilimanjaro Stage Run
By Tim Leinbach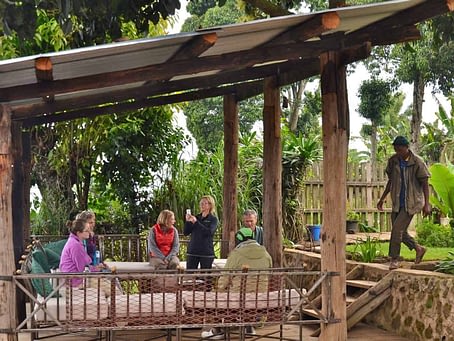 Day 0 – On Tanzania Time
After a long journey, I was elated to arrive at the Mbahe Village on Simon Mtuy's family farm, where we spent the night in cottages atop a ridge at 1,900 meters on the southeastern flank of Tanzania's Mount Kilimanjaro.  This part of East Africa was lusher than I expected, as the mountain receives plentiful rainfall that feeds the cold mountain streams used for local irrigation.  I relished the opportunity to rest, relax and unplug from my wired world back home in the U.S. and transition to the mellow daily rhythm of rural Tanzania.

Day 1 – Gorgeous Gorges
Today left me and my fellow runners in the Kilimanjaro Stage Run awed and humbled by the idea that we are actually starting a 260-kilometer run around Mount Kilimanjaro, the highest peak in Africa. While the footing was easy, I soaked up the incredible views of the snow-capped peak soaring overhead.
Running through the first of two steep-sided gorges, however, required my full attention. We ran along vertigo-inducing switchbacks down the first gorge's grassy, boulder-strewn side until reaching a beautiful stream with a waterfall at its bottom.
After ascending the opposite side and crossing a ridge, we were soon standing at the second gorge's edge, from which we could see our support vehicles and crew on the other side. The crystal-clear mountain air made them appear near, but after a long and convoluted descent into a primeval forest full of monkeys, we realized the real work had only just begun.
We had to find the long, steep path winding up the other side. With burning thighs and happy spirits, we finally reached the vehicles.  After that, it was an easy 45-minute jog to our first camp site.

Day 2 – Pining Among the Pines
Our first night's camp was situated in a primary school yard, so it wasn't too surprising when, when I unzipped my tent in the morning, I saw a crowd of young students staring back at me.
The day's ran began on similar up-and-down terrain, until, by early afternoon, we reached Mount Kilimanjaro's northeast shoulder, where we entered a dense pine forest. The trees were mostly planted for harvesting and created a quiet, cool environment of a soft, pine needle-covered trail and the familiar sweet smell of evergreens.
Day 3 – Meeting the Maasai
Running a section of paved road today, we saw only a handful of motorcycles (no other motorized vehicles) and a lot of people on foot. They were are all amazed and happy to see Wazungu (white people) running in this remote part of the mountain where tourists rarely go.
Leaving the road, we descended into a series of small, remote Maasai settlements along the Kenyan border. To our right was sparse cropland tilled by the more settled Maasai and other ethnic groups who have moved to the region. The area is mostly open plains where wildlife roam and the pastoral Maasai live, extending all the way to the great Amboseli and Tsavo National Parks.
Day 4 – Friendly Farmlands
We ran past numerous Maasai bomas (homesteads), whose owners were wearing traditional red-and-purple shuka cloths, before we emerged from the forest and into open farmland, where we ran along the borders of old colonial farms growing grain crops for breweries and bakeries.
The day's final stretch began with a long descent along a smooth-yet-winding dirt path featuring banked turns that allowed us to run fast with playful abandon before reaching the bottom at Simba Farm, where we appreciated our comfy beds, hot showers and farm-fresh meals.
Day 5 – Children of the Chagga Tribesmen
Day five, the longest stage of all, offered the most variety. It began easily enough, taking us through another shady tree farm and then through scrubland, along smallholder farm plots and across dry stream beds.
We then followed a well-worn trail through a native forest before reaching densely settled villages that are common along Kilimanjaro's southern flank.  We ran past many vegetable plots, banana groves and Chagga homesteads, where we encountered scores of children in school uniforms returning home and people going about their daily business.
Day 6 – Villages of Machame and Moshi
Today's run took us through the villages of Machame, home to dense plots of banana, coffee, beans, maize and vegetables.  The distance (as the crow flies) is not far, but because of the rivers, valleys and ridges, we take a roundabout route that travels uphill and downhill and zigzags across the convoluted landscape.
Our route parallels many hand-dug furrows, built to channel stream water to village fields along the ridges. The environment's natural beauty combined with this simple human engineering feat create a magical trail through the forest. Tonight's camp is set on a ridge at 2,100 meters, offering a spectacular view of Moshi Town and Mount Meru beyond.
Day 7 – Wandering Wazungu Draw Attention
Today's run treated us to more scenic ridges and forested valleys. We passed through settlements where we feel like the first Wazungu to have ever visited. One of the less remote sections is the upper reaches of Mweka Village, at the terminus of one of the Kilimanjaro climb routes.
Here we encountered groups of porters, who work for local climbing outfitters, lounging about after several hard days' work on the mountain.  Our final camp is at another primary school at the uppermost edge of a village called Kidia.
Day 8 Coming Full Circle: Return to Marangu
Our adventure's final day began with a gentle ascent on a quiet forest path leading to an old road that formerly served as a main link between the mountain's upper villages.  We ran along the wide, smooth road at a steady clip, spreading out as each runner found his or her ideal pace and proceeded in solitude, listening only to their own breathing and the calls of abundant bird species.
As the trees thinned, we saw Kilimanjaro again to our left. Cutting across a section of grassy knolls interspersed with scrub brush and pockets of trees, we follow a path traversing open land between the forest and villagers' gardens.  After crossing some small gorges, we emerged onto a paved road about 200 meters below the Marangu gate, where our adventure had begun a week earlier.
Completing our circumnavigation of Mount Kilimanjaro with a sprint finish, we celebrated with hugs, high fives and congratulations. I felt relieved at completing the run around "The Roof of Africa," but strangely energized, as if I could do it all again.
The 2015 Kilimanjaro Stage Run is taking place this week. Don't miss your chance to run it in 2016! Click here for more information.
 NOTE: Tim Leinbach ran the Kilimanjaro Stage Run in 2012, and has since joined Simon Mtuy's team at Summit Expeditions and Nomadic Experience to promote the KSR to runners in North America.