WHAT'S INCLUDED IN THE PRICE?
The cost includes all accommodation, all transfers (not from airport to hotel or hotel airport) , breakfast, dinners, GPS and tracking devices, local guides and daily luggagge transportation.
WHAT'S EXCLUDED?
It does not include personal travel insurance, lunches and tips for the guides. It also does not include any entrance fees to any optional sites or attractions. We strongly recommend you carry a credit card in case of personal emergency.
WHAT KIND OF FOOD WILL I GET?

Costa Rican cuisine is known for being fairly mild, with high reliance on fresh fruits and vegetables. Fresh fish is always the best option every time we sleep by the see, please do not expect as much variety as you would have access to at home. We will be in rural areas and among people of a different culture who may not understand your requirements, however willing they are to help.

If you know there are plenty of foods you cannot eat you may wish to bring extra snacks from home so you can top up your energy supply. Being vegetarian or having other dietary requirements is not usually a problem as far as you let us know well in advance. You are welcome to bring your own energetics bars, if you are used to them or feel you would need them. We will have fruits available in different points while running.

According with our experience some of the participants in last years editions have experimented some lingering GI (tummy) symptoms on the last days, nothing important, (just to let you know and be prepared for that).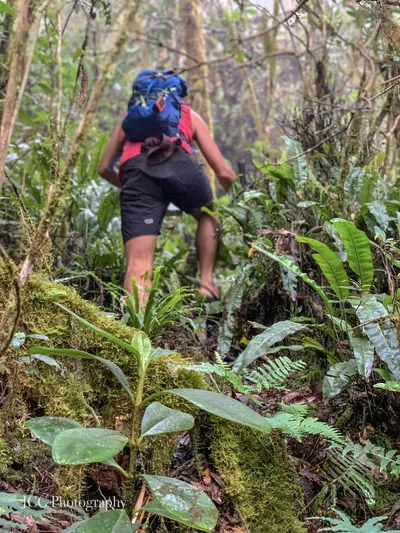 CAN I BRING AS MUCH LUGGAGE AS I WANT?
Your luggage will be kept in the bus and moved every day from place to place by the driver together with extra food and water. The space is very limited for each of us. Hard-sided luggage is not allowed. We suggest your kit is packed in a soft rucksack or expedition kitbag. You should also bring a small day pack to carry for items needed for a day, there are two days in which because of the remoteness of the location that's all we will be able to get you at the end of the run.
WHAT'S THE ACCOMMODATION LIKE?
Be aware some days we will be pretty isolated, so we don't really have a big variety of accommodations to choose. We love little places run by locals and together with home made food will make you feel like home. As they are so little, we don't have the option for single rooms. Basically we have double rooms and a particular day it could be even triples or quadruples.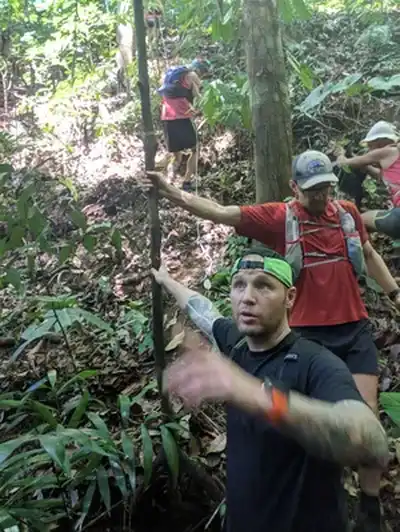 I'M A SINGLE RUNNER, IS THERE AN UP-CHARGE?
Yes, our prices are based in double – triple occupancy room. In case of singles, there's a 50 euros/night supplement.
The adventure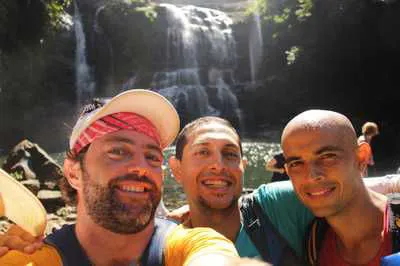 WHAT TYPE OF TERRAIN CAN I EXPECT?
Terrain varies from clear wide tracks and small village roads to muddy, root-covered, slippery paths in the rainforest, rivers and beaches. The terrain can be very challenging and even more challenging in wet conditions. There are also many stream/river crossings. Your trainers will get wet mostly every day.
WHICH KIND OF CLOTHING & EQUIPMENT DO I NEED?
We are travelling through remote terrain where we will be exposed to any insects and animals. Long sleeves to cover your arms (those you can put and take off) are strongly recommended. Please pack tons of sunblock, bug spray and anti-histamine. Once in destination every day, you don't need any fancy clothes at all! flip flops, shorts and t-shirts will make it. Makes no sense at all long trousers or sweaters. Take just one long t-shirt which can be need a particular day in the morning. Don't forget a pair of swimming costume, sun glasses if you need them and your camelbak. Also bring your own shampoo.

Plan on being wet 100% of the time.

Try and make sure you have practice running wet, especially in wet shoes. Your favorite trainers might not be your favorite WET trainers. Bring at least 15 pairs of socks and also trail shoes for sure (two pairs).

Have a waterproof case for your phone and other water sensitive things. We expected you to SWIM at any given time on any given day. so you must expect that everything on you will be fully underwater for periods of time. You have to be mentally and physically prepared to jump in fully clothed and strapped.

Bring ziplock bags to separate the wet clothes in case your clothEs won't get dry during the day.
BODYCARE
Everyone should have blister plasters, and a first aid kit with antiseptic cream, scissors, dressings if you want to have your own for any cures at the hotel.
Nappy cream is very important or sudocrem as it's known in the UK for chafing/skin irritation.
ENERGETIC FOOD AND OTHERS
Several times a day we will provide you food, water and snacks. Everyone should be responsable of its own energetic bars and gels.
Pack electrolyte tablets which are very good and easy to use. Don't forget salt tablets at all. Protein recovery powder to have at the end of each day can help a lot with recovery too.
WHAT'S THE WEATHER LIKE?
It's hot, yes!, in a very tropical way, but also expect to get wet every day, if not in waterfalls, then rivers or the sea. Night it's also hot.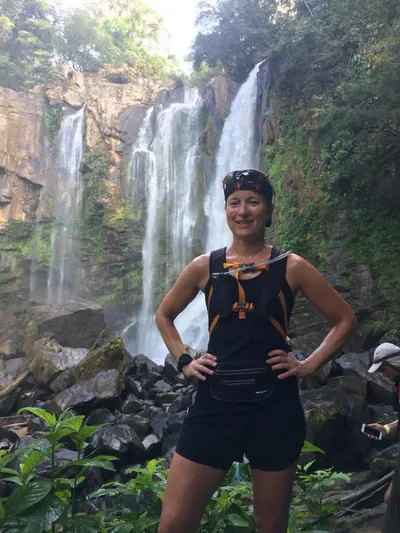 IS THERE A MINIMUM FITNESS LEVEL REQUIRED IN ORDER TO JOIN THE ADVENTURE?
Training for the challenge is all part of the preparation and require commitment. We expect all participants to train hard in advance.

Again and again we remind you this is not a race.

Two guides will be running with you, but for safety reasons, we all should try to be in the same group. If not, then sometimes we will need to re-group, so the front-runners will find themselves waiting for the slower ones. Please relax, and remember that this is a team effort that will let you discover a beautiful country as very, very, very! few people has.
DO WE START THE ADVENTURE ON DAY 1?
No, during day participants arrive in San Jose. Doesn't matter the time but all have to check in the hotel. We will have meet-and-greet dinner all together where you will get to know Pablo ant he rest of the guides. After that a briefing session will take place before going to rest. Next morning we depart early in the morning with the van to the starting point. Once here we start our running adventure. Still we wont start travelling till day 2, we can not accept flights arriving day 2 early in the morning.
TIPPING
We encourage you to tip your guides if you feel you have received excellent service and have had an enjoyable trip. A typical gratuity usually around 2% of your trip price per guide, depending on your level of satisfaction. e.g. $1500 trip = $30 per guide.
The Country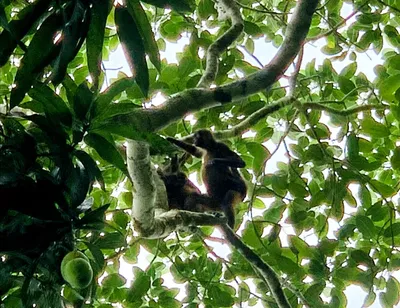 THE CURRENCY
The official currency in Costa Rica it's the Costa Rica Colon (about 500 colones per 1 USD)

Dollars are easy accepted in hotels, but we recommend you to have cash in colones for your little shoppings at the villages. Try to exchange them in the airpot, thats the easiest way. Aside from meals, there are no required additional expenses for this trip, but you might like to take cash for such things as souvenir shopping or nightlife.
PASSPORT & VISA
A valid passport is essential; it should be a valid for at least six months after return from Costa Rica. There's is currently no visa requirement for USA or European citizens (remember to fill in the ESTA form if you fly via United States).
Citizens from other countries could require a visa. For more information, please contact your local embassy or passport office.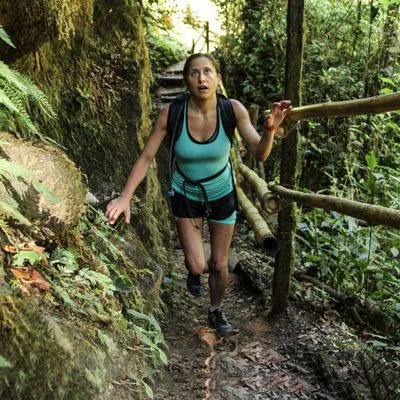 VACCINATIONS
(Other than Covid related) We only need you to have had a Tetanus injection in the last ten years. Other protections, against Polio, Hepatitis A and Typhoid and Malaria are not prevalent in the region, it's your decision if you want to take the vaccine.