Irish, Costa Brava, Runner Testimonial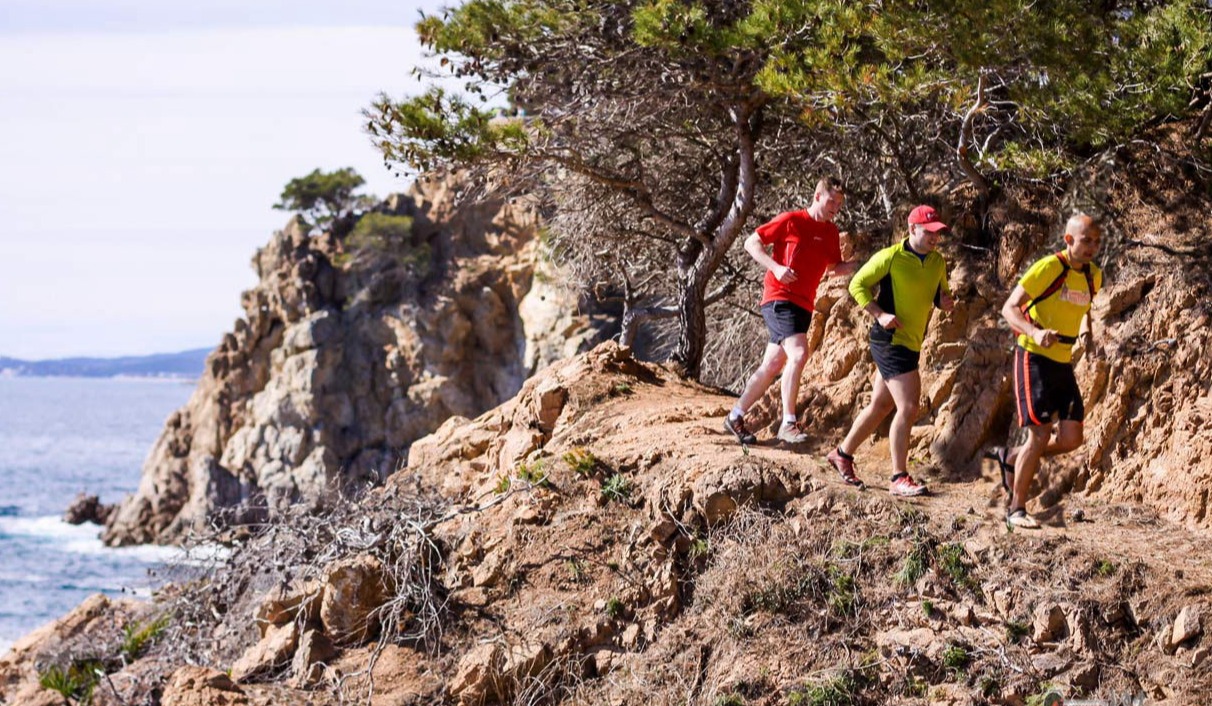 What is running really about?
We're all missing the point; there's a reason we run, and it's not to make a fool of ourselves in front of our buddies.

Shortly before Christmas 2013 a friend, Stephen Griffith, proposed a running vacation in Spain to break up the cold winter months. As a mountain running enthusiast (and Irish Mountain Running Association member), I couldn't resist.

Running Costa Brava Tours, a member of Run the World Adventures, has a package including two nights at a bed and breakfast, a 45 km run, with lunch and dinner on the day of the run.

It seemed like a great idea! So I paid for my flights and for the running vacation package. Two days later whilst out for a night run with my friend John Kelly who, by coincidence, had recently emigrated to Spain, I twisted an ankle. I spent next 6 weeks in various stages of lameness, and met my running compatriots Stephen, Dan, Brian and Jason. at the airport for my trip to Spain with a still-swollen ankle.

A short flight to Barcelona, and then we located the car rental firm. After two hours easy driving along excellent motorways and with the assistance of an iPhone, we were at our hotel in Girona.

Off to investigate Girona we found an ancient walled city and where we scaled the walls and made our way around the oldest part of the city eventually descending to the central cathedral.

The hotel was simple, but more than adequate, and after a short siesta we went in pursuit of dinner. Somehow we found ourselves in an Irish pub!

Irish pub in Girona
After early night we were up bright eyed and bushy tailed for breakfast at 7 a.m. After breakfast, in walked a lean and athletic Pablo Rodriguez, who would be guiding our running adventure for the day. His able assistant, Guillem, drove the support car and took pictures.

We were soon off the main thoroughfare and driving through hills and woods until we reached a beautiful farmhouse parts of which were apparently over 1,000 years old. Pablo geared us up with a GPS and a phone tracking device and set us on our way for the first 10 km, whilst they dropped one car back and he promised to meet us en route.

Leaving the farmhouse, we ran along forested trails and tracks under a magnificent blue clear sky. The vistas were beautiful and we didn't see a soul. An hour and a half later, Pablo came bounding up the forest track towards us.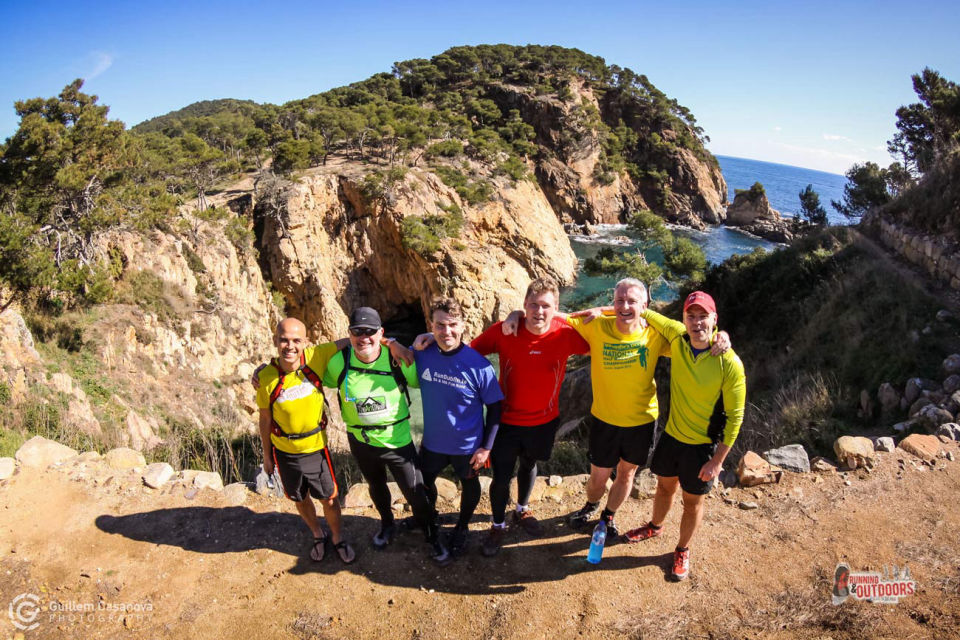 We descended to a flatter area, through fields and forestry with some small country roads. We saw occasional walkers, runners, and cyclists, as we wended through the countryside. We passed through the outskirts of the towns of Vall-Llobrega and Palamos.

We emerged from some trees and there was the bluest Mediterranean and gorgeous rocky coastline right in front of us. A short break, and we were making our way along the coast, descending into small coves, running across the sand, ascending and continuing on along the rocky coast line.

We eventually came to the town of Callela de Palafrugell, where we proceeded along the seafront to a very smart restaurant. Our rather sweaty demeanours and attire didn't quite fit the surroundings, but they seemed happy to see us. A gastronomic delight followed. Simple cooked fresh local fish and salad, followed by the most delicious dessert of local soft cheese covered in honey and almonds and coffee.
Naturists and a Cold Lesson from the Mediterranean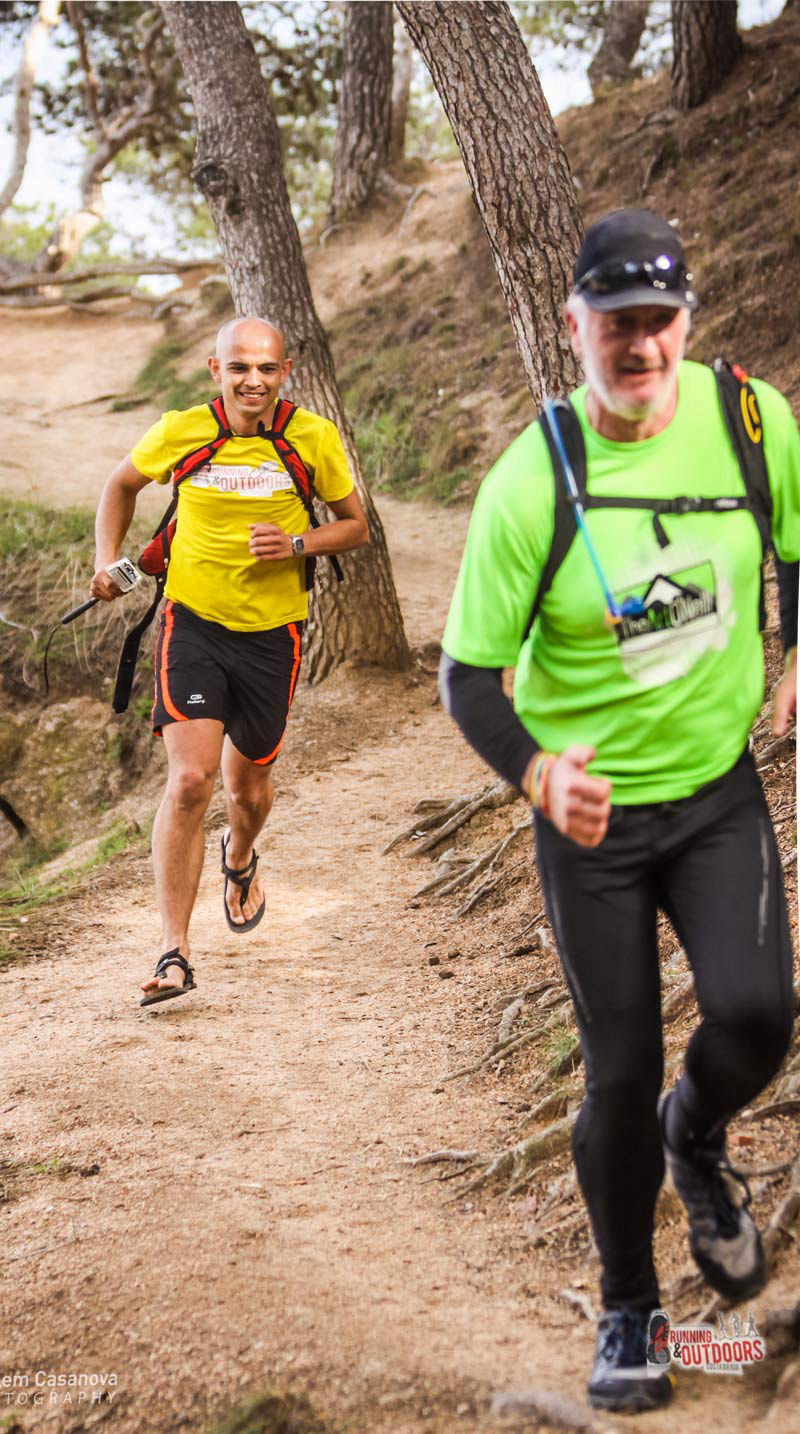 Climbing out of the town we followed the coast, from cove to cove. Sunbathers were dressed in inverse relation to the coves' accessibility. We passed through remote coves and alarmed the naturists with our appearance. The reverse was also the case, as we were equally alarmed at some of the naturists' appearance!

Eyes firmly ahead – we proceeded until we arrived at a bay in Llafranc where a diving board protruded from a rocky cliff and hovered above a beautiful blue sea. Pablo suggested a dip and it seemed like a great plan. Only the diving board was much higher above the sea than it first appeared.

Walkers began to gather, sailors came out on deck of their yachts, and diners abandoned their lunches, as a pasty bedraggled crew made our way to the diving board. Leading the jump was Pablo, and I should have picked up the warning signs when I noticed Pablo started swimming before he hit the water, and he made his way to shore at the speed of an offshore powerboat.

Stephen and Jason expressed some strong opinions about the temperature of the water on contact. This was the Mediterranean but it was February, after all.

I confirmed this when I hollered as parts of my anatomy normally located much lower sought the warmth of my throat!
Soon we were approaching our final destination; the medieval walled town of Pais. Our running vacation led us up the narrow cobbled streets to the central church. A great days running and 45km.


Back in Girona, we enjoyed another gastronomic delight: course after course of Michelin quality tapas, washed down with multiple different wines, beers, water and anything else we could get our hands on and all included in our package!

Girona is a food lover's paradise – with no less than seven Michelin starred restaurants in the town! After dinner more beer was the order of the day and it seems that theme bars are popular in Girona.

Our first stop was in a "Clockwork Orange" themed bar. As if this wasn't surreal enough, we then went to a Bruce Springsteen-themed bar where the owner was dressed as a cowboy.

Overall, it was a fantastic trip and a great way to break up the winter!with that place and with myself.

Words of the (now) Wise

-The day was quite warm, despite it being February, and I was very thankful of my Camelbak hydration pack.
-Some of the cove descents and ascents are very steep.
-A more "normal" package for Pablo includes a number of days with shorter runs each day (20 to 25km). A great way to break up the winter, highly recommended.

Strangely my twisted ankle which had been painful for the previous 6 weeks was pain free after 25 km and although swollen wasn't painful again – not sure the treatment was what the doctor ordered but it worked!