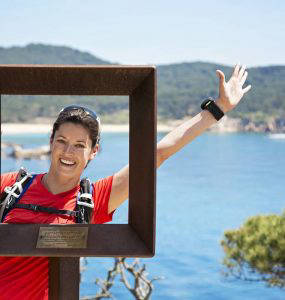 Writer and runner Rachel Sturtz has run many races and travel to many destinations throughout her career.
"Trying to travel to races is always fun," says Sturtz, "but it comes with trying to stay off your legs before the race, morning-of nervousness, and the post-race wobble for the rest of the trip." "When I had the opportunity to join Pablo on his Costa Brava trail exploration, the trip was less about running and more about the blissful high of exploration." Running became a means of transportation from one castle to the next. I was never tired, I ran at my own pace, and I came away wanting more!"

Her running adventures last year with Run the World Adventure co-founder, Pablo Rodriguez, merged two of Sturtz's passions in a whole new way.
But it comes with trying to stay off your legs before the race, morning-of nervousness, and the post-race wobble for the rest of the trip.
Read Sturtz's feature story in the October/November 2014 edition of Running Times entitled, "Have Shoes, Will Travel."

"Fitness travel has been increasingly popular in recent years," she says, "but as any well-traveled harrier knows, no race is required to explore a nation on foot, and there's a ritualistic warmth in bringing out a map over morning coffee." "This new type of travel seeks to take care of everything for you, including outfitting you with GPS watches, transporting your belongings, feeding you, and introducing you to the locals."

And that's a unifying concept behind Run the World Adventures: to take the work out of vacation planning, organizing and logistics so that you can show up care free and ready to run.

Since all the trips we offer are non-competitive, there's no pressure to run at a certain pace or finish within a certain timeframe. The relaxed pace allows you to truly sink into "vacation mode" while exploring often remote routes far from the beaten paths that most tourists frequent.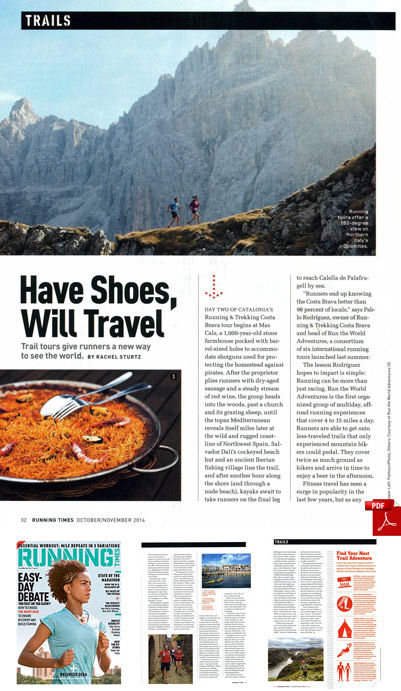 Running trips examples
For example, you can choose to follow your guide along unfrequented wooded pathways linking together fishing villages along Spain's Costa Brava, or pad along dusty ancient footpaths that ring Tanzania's infamous Mount Kilimanjaro.

You may encounter residents of traditional Mayan villages dotting Guatemala's Lake Atitlan or end runs with a dip in a steaming hot spring tucked into hidden corners of Iceland's rolling green landscape.

Whether you choose to vacation with us in Iceland, Italy, New Zealand, Tanzania, Spain or Guatemala, your locally based guides share their deep knowledge of not only the trails, but the culture, history and ecology, that by the end of your trip, you know the area better than most native residents.

Free from the confines of a tour bus or walled grounds of a resort hotel, a running vacation allows you to immerse yourself in the landscape, culture and energy of a foreign land in a more genuine and profound way.

Whatever your idea of the ideal running vacation: relaxed, adventurous, rugged or pampered, we have a trip for you.

Learn more about the wide range of trips we offer by requesting our Travel Planner. Enter your name and email into the form at the top of the homepage to have it delivered to your inbox.