A Father's Day Race Ends in Victory
By Greg Jensen, owner of Mayan Running Adventures
"What do think about running a Father's Day 10km race in Panajachel this Friday afternoon?" I ask my client, Todd.
I expected him to decline the offer. It was Monday morning and the start of a six-day running vacation for him and his wife, Joy in Guatemala. Over the ensuing days, we'd run 50 miles with almost 20,000 feet of elevation gain. It would mean a total of 20 hours on our feet between today and race day.
"Let's do it!" Todd said. And with that, there was no changing his mind.
I had connected with Todd and Joy, who were from Boulder, Colorado, through Run the World Adventure's Twitter feed, when they were seeking a running adventure and chose our all-inclusive trail running vacation at Guatemala's Lake Atitlan.
As the owner of Mayan Running Adventure, I was their personal travel and running guide for the week.
Can the Foreigners Run?

The morning of the Father's Day 10K race, we ran eight miles with 2600 feet of elevation gain. It was the sixth straight day of running amazing trails around Lake Atitlan, which we had sweeping view of its volcanoes. We ran through a remote village where we high-fived school kids as we ran by.
We then descended through terraced onion fields and along a hand-dug irrigation canal used for irrigation.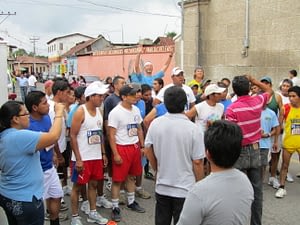 With that "warm up run", we strolled to the 10k race's starting line. Todd was tired. I was tired.
Looking around us at the start line, there were some good runners. The field was small, maybe 50 runners at most. The locals took this event seriously; runners traveled by public bus from up to three hours away to compete.
As the race's only foreigners, Todd and I were like celebrities. Todd's limited Spanish made the locals snicker.
Everybody was staring at us as thinking, "Can these guys really run?"
The gun went off and Todd took off with the leaders.
Having done no speed training for years, other than powering up volcanoes, I tucked into the pack at a comfortable pace. The course was three loops through town, over half of it on the cobblestone streets of Panajachel, a town in the southwestern Guatemalan Highlands, about 90 miles from Guatemala City.
I was feeling the effects of the week's running and spent most of the race high-fiving people and hamming it up along the route.
Todd ran tough. He's a competitive guy, and an experienced racer.
I finished somewhere between fourth and last. Todd finished fourth overall, and the first master (over 40 years of age). The crowds cheered the gringo. They were suprised that a foreigner had won the master's race. And they didn't know he had already run eight tiring miles that morning.
"Todd, you won a prize!" I shouted.
"That's impossible, I finished fourth," he said.
I told him they were giving prizes to the first three spots overall as well as the first three masters.
"What did I win?" he asked.
Todd was anticipating taking home a cool Guatemalan medal or maybe a trophy for the office.
"You won a bed!" I said. Guatemalans are nothing if not practical. What good are medals or trophies?
The first-place finishers each won a double bed. Second-place finishers a mountain bike, and third place finishers a wheelbarrow with hoe and shovel.
Since Todd was flying home in the morning and had no need for a spare bed in Guatemala. He offered me the bed, though I told him we could really use the mountain bike.
We approached the second place winner and offered a trade: the more expensive first place bed in exchange for the mountain bike.
He hesitated because he had taken a 45-minute bus ride from his home to the race, and felt he could use the mountain bike. But after consulting with his wife, he agreed to the swap.
We helped him carry the bed to the bus station where they hoisted it atop the public bus.
My four sons gratefully accepts the gift of Todd's mountain bike, while the Father's Day 10K masters champion went home empty handed.
However, he did go home with a prize that's better than a bed or a bike. He got to race alongside those Mayan Guatemalan men. Although they couldn't communicate with words, they shared the love of running that day in Guatemala.
Learn more about a trail running vacation in Guatemala here: http://runtheworldadventures.com/guatemala/